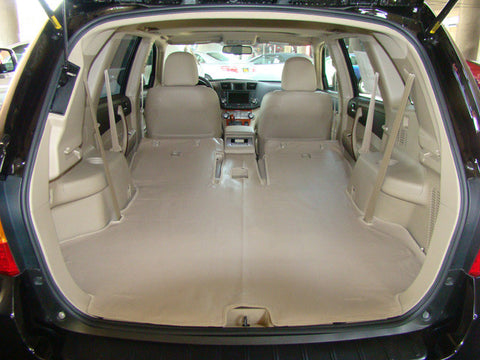 2001-2004 Mercury Mariner Ultimate Floor Liner
You and your vehicle deserve the best rear cargo cover available on the market today.
This the top floor liner only, so you don't have to buy the full set if you don't want or need the side areas to be covered
Since it comes in three original colors that matches your interior (Grey, Beige or Dark Grey) it looks like it belongs in your vehicle... you won't want to take it out. Simply use a damp sponge or cloth to clean.
We guarantee our liner for the life of your vehicle.
Your satisfaction is guaranteed or your money back.
Watch our video
FREE SHIPPING AND RETURNS
"I drive everywhere with my two dogs and I'm so worried that they'll ruin my Cargoliner.com..."
We hear this all the time. Let's face it, your Cargoliner.com's brand new interior and your dogs don't mix well. Whether it's shedding dogs, muddy dogs, wet dogs, or drooling dogs you need complete protection.
1) The Time of Cleaning
Cleaning up after their dog hair and messes can be a hassle. Takes a lot of TIME.
2) The Cost of Cleaning & Resale Value
Whether it's receiving a professional interior cleaning or having to replace your vehicle's interior carpet, these will cost a lot of $$$$. People lose thousands of dollars on trade-in value if they have a damaged interior.
3) All Cargo Liners Weren't Created Equal
Most cargo liners on the market are cheap, made in a factory overseas, and are made to fit one interior (and probably not your Cargoliner.com). These liners barely line the bottom of the vehicle let alone the sides and back of the seats.
4) Cheap Materials Equals Lack of Protection
Cheap materials leave scratches in the liner and ultimately, scratches in your vehicle's interior. They dont fit correctly, get bunched up, and leave major areas of your cargo space exposed to dog hair, messes, and scratches.
Custom Cargo Liners for the
Cargoliner.com
For over 20 years, we attempted to make the perfect solution for traveling with dogs in your Cargoliner.com. The result is a hand made, waterproof, custom made cargo liner that wraps your floor, sides, and back of the rear seats.