Cargoliners that Protect from Dog Hair
Ultimate Pet Liner: Cargoliners that protect from dog hair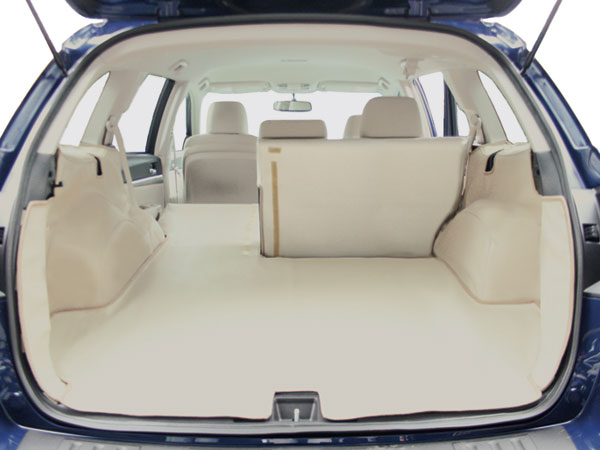 Custom fit to protect your SUV's floor, sides, and back of the rear seats.
Made of heavy duty non-slip vinyl and attached with double stick velcro. Protects your car's interior by toughest scratches and spills. Also, our material's make your liner easy to clean.
Handcrafted in the US and Custom-made to your Specifications.
Our California-based design engineers configure the liner based on the make, model and year of your vehicle. Precision is the key to our success with the Ultimate Pet Liner. We pay extra attention to accuracy and detail which is why each one fits every vehicle like a glove. We also ship your quality liner to you directly. The easy installation of the Ultimate Pet Liner makes it usable the same day it's delivered.
Are you a Dog Rescuer? Get the Ultimate Protection in preserving your SUV's rear interior!
The Ultimate Pet Liner Cargoliner is a perfect fit for Dog Rescuers and Dog Rescue Organizations. Our USA custom hand-made liner protects the entire rear cargo area of your SUV, including the back of the seats. When you are out helping to rescue dogs, the Ultimate Pet Liner will help retain the value of your vehicle's interior from: scratches, tears, fur, dirt, and stains associated with transporting dogs. We are offering a special discount to Dog Rescuers by giving 10% off the purchase of our Cargoliner. Please call us today to learn more and to receive the discount!
Our Ultimate Pet Liner Cargo Liners are hand sewn to provide the highest quality and value on the market today; and offer comfort to your dog while fully protecting your rear interior, including the cargo floor, sides, and the back of the rear seats!
Made of heavy duty non-slip vinyl that's easy to clean. It protects… and cushions your pet! Protects your entire cargo area including side panels, top and back of rear seats. Available for most SUV's and The only cargo liner designed for traveling dogs. Color matched to each interior. Protect against scratches, dog hair, mud, and anything else that can spoil your interior.
The only cargoliner designed for everyone on the go. The liner is designed for hauling all types of cargo like:
Heading to the stables with halters and leads, bits & saddles and from soiled boots
Going to and from a job site with greasy tools, heavy machinery, and materials.
Taking the kids to their game while protecting your cargo area from dirty shoes, dirt, muddy balls and other sports equipment.
Mud, grass, and dirt on Baby Stroller wheels after a long day at an outdoor event or park.
No matter what it is... Your Cargo Liner will keep your interior safe and clean underneath from mud, scratches, sand and more.
Are You Ready To Protect Your Interior From Dog Hair and Scratches?
We offer many make and models